Education
About Education
A priority of Florida Center for Inclusive Communities is to improve access to effective educational supports for individuals with developmental disabilities. This priority is accomplished by ensuring that education personnel have access to research, training, and support to promote inclusion, provide positive behavior support and implement evidence-based practices in autism and related disabilities.

In this section, we invite you to explore the programs and resources through which we deliver our technical assistance, training, research, and information dissemination efforts.
Education Resources Spotlight
Understanding Multi-Tiered Systems of Supports
Because significant behavior problems contribute to unsafe school environments and reductions in student performance, the FCIC education programs and projects are committed to assisting school districts and educators in developing effective discipline, social/emotional and behavioral support strategies for all students including students with disabilities. Effective behavioral strategies are most often developed and delivered in a multi-tiered system of student supports at the school-wide level, the targeted group level, and the individual/intensive level by utilizing data- based decision making within a problem-solving process.
Resources and Agency Links
Association for Positive Behavior Support (APBS)
APBS's mission is to enhance the quality of life of people across the lifespan by promoting evidence-based and effective positive behavior support to realize socially valid and equitable outcomes for people, families, schools, agencies, and communities. A video introduction to APBS can be watched here. An interactive tutorial on PBS can be accessed here.
---
Education Resources Information Center (ERIC)
The Education Resources Information Center (ERIC) is an internet-based digital library of education research and information sponsored by the Institute of Education Sciences (IES) of the U.S. Department of Education. ERIC provides access to bibliographic records of journal and non-journal literature from 1966 to the present.
---
Florida Department of Education, Bureau of Exceptional Student Education
The Bureau of Exceptional Student Education administers programs for students with disabilities. Additionally, the Bureau coordinates student services throughout the state and participates in multiple inter-agency efforts designed to strengthen the quality and variety of services available to students with special needs. This web site provides state exceptional student education policy documents, annual reports, and other information related to the implementation of special education and related services in Florida schools.
---
Florida Inclusion Network
The Florida Inclusion Network (FIN) collaborates with all districts, schools, and discretionary projects to provide customized services and supports ensuring all students with disabilities have the same educational, social, and future opportunities as their peers.
---
Individuals with Disabilities Education Act
This site was created to provide a "one-stop shop" for resources related to IDEA and its implementing regulations. The site provides searchable versions of IDEA and the regulations, access to cross-referenced content from other laws (e.g., the No Child Left Behind Act (NCLB), the Family Education Rights and Privacy Act (FERPA), etc.), video clips on selected topics, topic briefs on selected regulations, links to OSEP's Technical Assistance and Dissemination (TA&D) Network and a Q&A Corner where you can submit questions, and a variety of other information sources.
---
National Consortium on Deaf-Blindness (NCDB)
The purpose of the National Consortium on Deaf-Blindness is two-fold. The first purpose is to promote academic achievement and results for children and youth (birth-26) who are deaf-blind through technical assistance, model demonstration, and information services activities that are supported by evidence-based research. Beneficiaries will include families, service providers, state deaf-blind projects, state and local education agencies, and other organizations responsible for providing early intervention, education, and transition services. The second purpose is to help address State identified needs for highly qualified personnel by ensuring that personnel have skills and knowledge.
---
PowerUp WHAT WORKS
This website, which is funded by the U.S. Department of Education, offers free resources, materials, and information to help educators ensure that their students, especially those with disabilities, meet the Common Core State Standards. PowerUp combines evidence-based practices, Universal Design for Learning (UDL), and technology to help teachers improve English and Math education for all students.
---
Strengthening Teaching
Department of Education resources for teachers who want to make a difference.
---
TIES Center
TIES Center is the national technical assistance center on inclusive practices and policies. Its purpose is to create sustainable changes in kindergarten-grade 8 school and district educational systems so that students with significant cognitive disabilities can fully engage in the same instructional and non-instructional activities as their general education peers while being instructed in a way that meets individual learning needs. They offer resources for educators; parents and families; and state, district, and school administrators that support inclusive education and system change.
---
What Works Clearinghouse (WWC)
The What Works Clearinghouse (WWC) was created in 2002 to be a central and trusted source of scientific evidence for what works in education. The high volume of research on different programs, products, practices, and policies in education can make it difficult to interpret and apply the results. WWC reviews the research and then seeks to answer the question "What works in education?". The goal is to provide educators with the information they need to make evidence-based decisions.
Information and Resources for Families
Family Network on Disabilities (FND)
This program, funded by the Office of Special Programs, provides Parent Training and information Centers to provide training and information to families to help children and youth with disabilities be successful in school and lead productive and independent lives.
The Parent Support Network (PSN) of FND is the PTI center that serves Charlotte, Citrus, Collier, DeSoto, Glades, Hardee, Hendry, Hernando, Highlands, Hillsborough, Lee, Manatee, Pasco, Pinellas, Sarasota, and Sumter counties.
The Parent Education Network (PEN) of FND is the PTI center that serves Broward, Indian River, Lake, Martin, Miami-Dade, Monroe, Okeechobee, Orange, Osceola, Palm Beach, Polk, and St. Lucie counties
The Parents of the Panhandle Information Network (POPIN) of FND is the PTI center that serves Alachua, Baker, Bay, Bradford, Brevard, Calhoun, Clay, Columbia, Dixie, Duval, Escambia, Flagler, Franklin, Gadsden, Gilchrist, Gulf, Hamilton, Holmes, Jackson, Jefferson, Lafayette, Leon, Levy, Liberty, Madison, Marion, Nassau, Okaloosa, Putnam, Santa Rosa, Seminole, St. Johns, Suwannee, Taylor, Union, Volusia, Wakulla, Walton, and Washington counties.
---
Parent to Parent of Miami
Parent to Parent of Miami is funded by the Office of Special Education Programs as a Community Parent Resource Center for families who have children and adults with disabilities in Miami-Dade and Monroe Counties
---
Project Empower of Northwest Florida
Project Empower of Northwest Florida is funded by the Office of Special Education Programs as a Community Parent Resource Center for underserved communities in Escambia, Santa Rosa, Okaloosa and Walton counties. Their mission is to support parents, caregivers and persons with disabilities from ages birth to 26.
---
Disability Rights Florida
Disability Rights Florida is a nonprofit organization that provides legal advocacy and rights protection for adults and children with a wide range of disabilities. Their staff attorneys, advocates and investigators address civil rights violations, abuse and neglect, and discrimination. They also offer important resources related to the rights and supports of children and youth receiving special education services.
---
National Center for Pyramid Model Innovations – Family Resources
The National Center for Pyramid Model Innovations offers many resources for families to promote their children's social-emotional and behavioral development.
---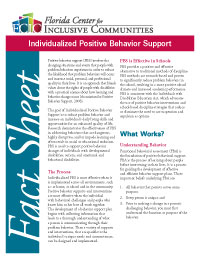 FCIC Fact Sheet: Individualized Positive Behavior Support
This fact sheet provides information about the PBS process and effectiveness in schools, as well as critical elements to successful application and a variety of FCIC programs.
English version | Spanish version
---