Interdisciplinary Training
About Interdisciplinary Training
Welcome to the Interdisciplinary Training Program for the Florida Center for Inclusive Communities (FCIC). Interdisciplinary pre-service preparation offers participants (known as trainees) integrated knowledge and methods from two or more disciplines, and includes the contributions made by people with disabilities and their family members. Trainees are provided with instruction, support, and mentorship from our faculty and staff who are nationally recognized in the field of developmental disabilities and positive behavior support. The program also provides the opportunity for trainees to analyze and evaluate the gamut of health, employment, education, community, early childhood resources and policies.
The program's overall mission is to develop the next generation of knowledgeable and innovative interdisciplinary leaders who have an unrelenting desire to promote inclusion, and want to engage in opportunities for leadership, academic development, and professional growth. Participants include undergraduate, graduate, or doctoral students in disciplines such as psychology, education, behavioral health, public health, medicine, social work, applied behavior analysis, or related disciplines. It also includes community members learning about self-advocacy and disability policy through practice.
Fall Speaker Series
| | | | |
| --- | --- | --- | --- |
| Topic | Presenter(s) | Date | Registration |
| | Stephanie Martinez, Lauren Evanovich, Therese Sandomierski | Dec 2, 2022 | Register here |
---
Programs and Activities
One of the goals of FCIC and other UCEDDs is to expand and influence higher education curriculum to impart knowledge of developmental disabilities to accomplish the shared vision of ensuring that all Americans, including Americans with developmental disabilities, participate fully in their communities. Independence, productivity, and community inclusion are key components of this vision. FCIC offers interdisciplinary training programs and activities that provide opportunities for students and professionals to learn more about how to promote the full inclusion and support of individuals with developmental.
FCIC's interdisciplinary training programs and activities revolve around a core curriculum that includes participating in any of the following FCIC programs and activities:

Project EBAS: Enhancing Behavior Analytic Services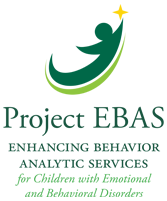 Project EBAS is a $1.11 million grant funded by the U.S. Department of Education, Office of Special Education Programs (H325K170085). Project EBAS is designed to prepare high-quality scholars to serve as either Board-Certified Behavior Analysts or School Psychologists who can contribute to the provision of focused instruction and individualized positive behavioral interventions and supports in an interdisciplinary team-based approach for school-aged children with severe emotional and behavioral disorders (EBD). EBAS trainees will complete the Positive Behavior Support Graduate certificate in conjunction with their MS degree. They may also receive mentorship and research opportunities.



---
Project iSED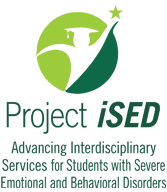 Project iSED is a 5-year, $1.19 million grant funded by the U.S. Department of Education, Office of Special Education Programs (H325K200051). The program aims to prepare 34 high-quality scholars to serve as either Board-Certified Behavior Analysts (BCBAs) or School Social Workers (SWs) who can collaboratively design and deliver evidence-based instruction and intensive individualized interventions and supports (PBIS) in natural environments, classroom, and schools for school-aged children with severe emotional and behavioral disorders (EBD). iSED trainees will complete the Positive Behavior Support Graduate certificate in conjunction with their MS degree. They may also receive mentorship and research opportunities.
---
Community Scholars
Community Scholars is part of a diversity pipeline program that recruits youths with disabilities as FCIC trainees to engage in paid on-the-job training (OJT). The Community Scholars are FCIC trainees and receive mentoring, development of basic administrative competencies, individualized career coaching, college counseling, and disability policy and self-advocacy training. Through the OJT experience, community scholars gain skills that can lead to gainful employment and are also introduced to post-secondary education as a real, next-step possibility. To learn more about this program, please contact Laura Rodríguez López at lrodri11@usf.edu.
---

Graduate Course: Issues and Trends in Developmental Disabilities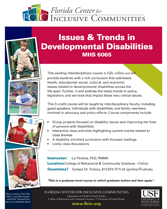 This exciting interdisciplinary course provides students with a rich curriculum that addresses health, educational, social, cultural, and economic issues related to developmental disabilities across the life span. Further, it will address the latest trends in policy, legislation, and services that impact these very critical issues. This 3-credit course will be taught by interdisciplinary faculty, including guest speakers, individuals with disabilities, and family members involved in advocacy and policy efforts. Course components include group projects focused on disability issues and improving the lives of persons with disabilities, interactive class activities highlighting current events related to class themes, a disability enriched curriculum with focused readings and lively class discussions.
---
Disability Training for Medical Students
FCIC faculty have work closely with their colleagues in the Department of Family Medicine (USF Morsani College of Medicine) to provide medical students with innovative, interdisciplinary training about the health care needs of patients with disabilities. USF is one of a handful of medical schools to offer this training. FCIC faculty deliver lectures, participate in panel discussions, and assist in evaluating students' clinical examinations. Since Summer 2013, the disability content has been expanded and infused throughout the 3rd year as part of the Doctoring 3 class. The curriculum has also been expanded to the Doctoring 1 class. FCIC faculty provide lectures to first year students within their first six weeks in medical school. The introduction of this topic earlier in their medical school training allows more time for students to become familiar with the health issues and disparities experienced by people with developmental disabilities. More advanced clinical content can now be undertaken in the third year. For more information about FCIC's collaboration with USF's College of Medicine, please contact Liz Perkins, Ph.D.
---
Interdisciplinary Center for Evaluation and Intervention (ICEI) Clinical Rotation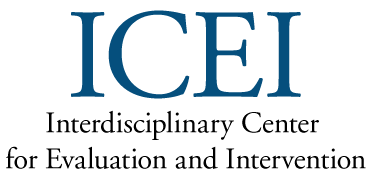 The Interdisciplinary Center for Evaluation and Intervention (ICEI; formerly USF FDLRS) is funded by the Florida Department of Education to offer interdisciplinary evaluations and interventions to students between the ages of 3 and 22 who present with serious behavior problems and complex social/emotional, developmental, learning, medical, and other co-occurring conditions. The primary focus of the clinic is to conduct functional behavior assessments and develop function-based support plans that are feasible and effective to be implemented in school and other settings. A secondary focus is to provide exemplary, comprehensive evaluations for students at risk for Autism Spectrum Disorders (ASD) and other developmental or psychological conditions. The clinic services are no-cost to the community and attempts to reach underserved individuals. Trainees can receive practicum experiences by participating on the clinic's interdisciplinary team that includes professionals and graduate students representing the areas of psychology, behavior analysis, pediatrics, psychiatry, special education, social work, public health, and families.
---
Training and Research Mentorship
Interdisciplinary trainees are mentored by FCIC faculty through individual studies, internships, practica, and thesis and dissertation committees. FCIC faculty represent a variety of disciplines, including psychology, education, special education, nursing, and public health. Find out more about FCIC core and affiliate at our web site. If you are interested in working with a particular member of the FCIC faculty, please contact them directly.
---
Training Criteria
To be eligible you must:
Be enrolled in an eligible program or activity
Complete the enrollment form and be registered in the trainee national database
Complete the FCIC Core Curriculum Training Modules
Be actively engaged in learning about developmental and intellectual disabilities through activities provided through our Trainee Commons
Be actively engaged in learning about developmental and intellectual disabilities provided through, seminars, and webinars developed by FCIC staff and through the Association of University Centers on Disabilities (AUCD)
Engage in AUCD's Emerging Leaders Community
---
The benefits of becoming a trainee include:
Individualized access to the services, research, and educational resources within FCIC and AUCD, including further study in Developmental Disabilities
Opportunities for funding for presentations and conferences
Access to FCIC Programs and Community Partners for practica and/or research opportunities
Additional education and development in the areas addressed in the FCIC mission (e.g., family-centered care, choice, inclusion, person-centered planning, strength-based approach to intervention)
Admittance to the AUCD national network and resources. AUCD not only provides resources developed by the UCEDDs and LENDs in the US and its territories, but also provides access to nationally developed resources and opportunities for trainee involvement, information about jobs in AUCD and other UCEDDs, access to webinars and other training, and information about fellowships and scholarships.
If you are interested in more information about the FCIC Interdisciplinary Training Program, please contact training director, Laura Rodríguez Lopez.
Scholarships
Evin B. Hartsell Endowed Memorial Scholarship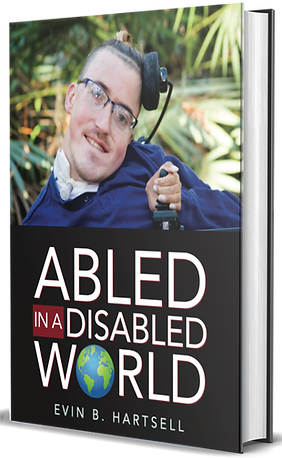 Through a generous gift from the Evin B. Hartsell Foundation, the Florida Center for Inclusive Communities (FCIC/UCEDD) is proud to offer trainees a scholarship opportunity for those living with disabilities or focusing their studies on the field of disability. The Evan B. Hartsell Endowed Memorial Scholarship is open to full or part-time students at the sophomore, junior, senior or graduate academic levels. Applicants must be active trainees of FCIC/UCEDD and pursing a major in Social Work or Counseling in the College of Behavioral & Community Sciences or Psychology in the College of Arts & Sciences, on any of the USF campuses. This scholarship will be awarded for two semesters and has preference for financial need. If there are no applicants who meet the below preferences, any CBCS FCIC/UCEDD trainee dedicated to the study of disabilities and inclusion can be awarded. To qualify for this award, applicants must have read Evin's book Abled in a Disabled World available through the USF library and submit an essay reflecting on their reading. A resume will also be requested.
Preference will be given to students in the following order:
Students with a disability, who is a United States Military Veteran, with a GPA of 3.0 or higher.
Student with a disability, who is a United States Military Veteran.
Student with a disability.
This scholarship award totals $1,000 ($500 per semester for a maximum of two semesters). If you would like to apply for this scholarship, please click here to complete the application. To learn more about Evan and the amazing life he led, you may visit his website at www.evinbhartsell.com.