Employment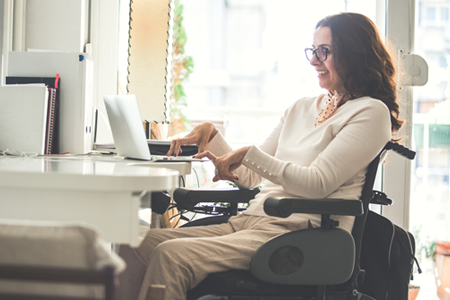 Employment Webinars
Join our vibrant and engaged virtual learning community every third Tuesday of the month. We will also feature quarterly Lunch n Learns. Feel free to participate in discussions, share experiences, and receive technical assistance in the application of strategies, resources, and best practices to increase employment of people with intellectual and developmental disabilities.

All viewers are eligible to receive certificates of attendance. If you do not have access to a computer with speakers, utilize the Zoom phone number meeting ID/Password, provided upon registration. Closed Captioning provided. Please contact Denise R. Barnes, MA, FCIC Employment Coordinator at 813-974-2581 or at drbarnes@usf.edu if other accommodation needs are warranted or if you have any questions.
Upcoming Webinars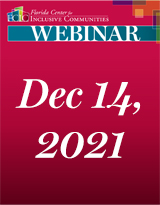 Life Beyond High School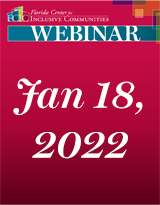 Vocational Rehab Services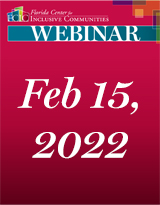 APD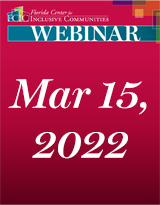 Disability Rights Florida

Job Development Modules
Job Development Modules: Being Updated in 2022
Collaborative on Discovery and Innovation in Employment (CODIE): Training Modules in Customized Job Development
Provided by: Florida Center for Inclusive Communities (FCIC) & Florida Developmental Disabilities Council, Inc. (FDDC)
These customized job development modules for individuals with developmental disabilities provide teachers, family members, support professionals, and individuals with disabilities with critical information on the following:
Identify potential jobs that are a match to the job seeker/employee.
Approach potential employers.
Help the employee be successful on the job.
Address the needs of both the job seeker and the employer.
Module Topics:
Overview of Customized Employment and Discovery
The Vocational Profile
Developing the Plan for Customized Employment
Developing a Job Portfolio
Researching and Visiting Targeted Businesses
Marketing Tools to Support Job Development
Negotiating with Employers and Meeting the Job Seeker
Job Analysis
Ongoing Job Support
Each module ranges from 15-25 minutes to complete. Many of the modules include a short quiz or learning check to help the participant reflect on what was learned.
Certificate of Completion available after successful completion of all modules.
Note: The modules must be completed in sequential order. Once you have completed all modules, you will be able to go back to review any of them again.
First Time Registration Instructions
You only need to register with our system once to access any of our FCIC online webinars and modules.
Click on the link below.
Create a log in (email address) and password. (Be sure to enter your email address correctly.)
An automated confirmation email will be sent to your email, containing the login link used to view the modules.
| | |
| --- | --- |
| | These modules were sponsored by the United States Department of Health and Human Services, Administration on Developmental Disabilities and the Florida Developmental Disabilities Council, Inc. |
Conferences
FCIC Employment Virtual Conference: Talent Actualized! Coming April 2022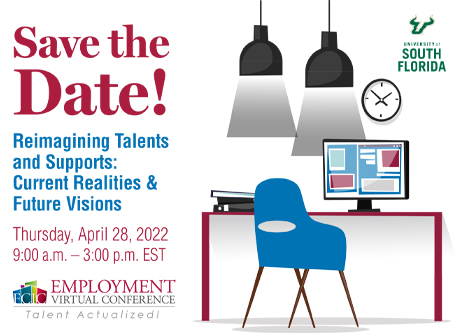 Conference details to be announced. For more information, please contact Denise R. Barnes.
Past Webinars
Thumbnail

Webinar Topic

Presenter

Date

Link

Supporting Community Success
Through Positive Supports

Beth Boone
October 7, 2021

View

Real Work for Real Wages

Alex, Rori Becker,
Phyllis Guthman,
Christopher Wright
September 21, 2021

View

Looking Beyond the Pandemic

Natalie Jean,
Arizona Jenkins III,
Mindy Stevens,
Wendy Vance
August 27, 2021

View

Amazon: All Abilities Opportunity

Brian Dickerson
August 17, 2021

View